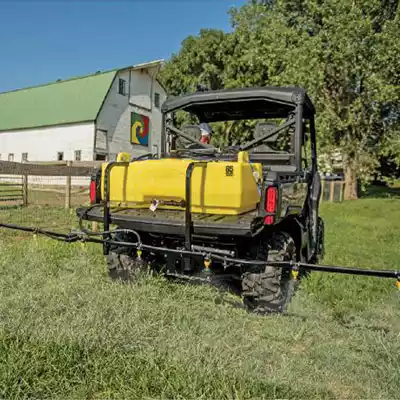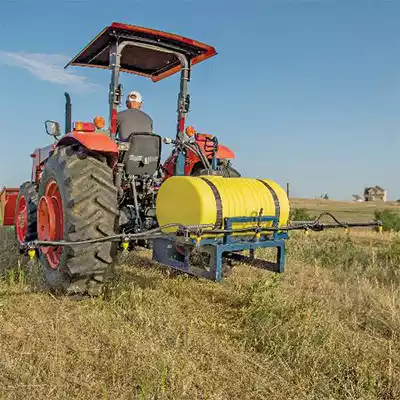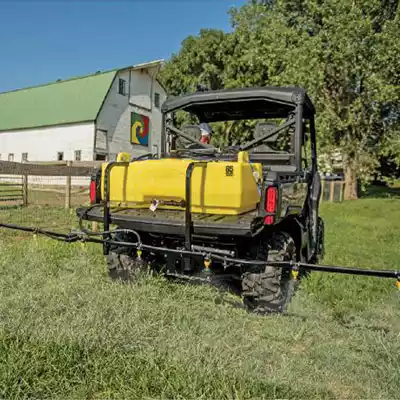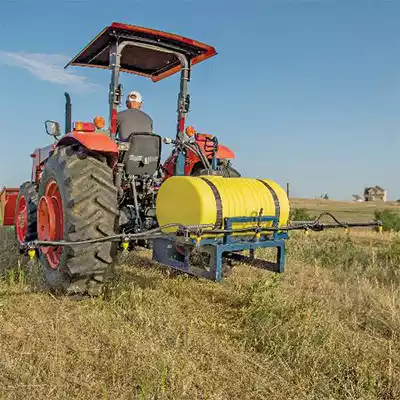 UTV Sprayers for Sale
UTV Sprayers with Boom
Our UTV sprayers and UTV sprayer tanks that feature boom offer you greater flexibility and practicality when spraying and watering. The 45 and 65 gallon UTV sprayers are heavy duty and features many options for boom attachments. When you need dependable water spraying coverage, you can rely on the UTV Sprayers with Boom. UTV sprayers with boom offer better wind resistance, better coverage, and less excessive overlap than other spraying options. Our UTV Sprayers with Boom are made in the USA and are ready to ship to you. We also carry Boomless Sprayers as an option for you.
*Inventory levels change continually and vary by location and features required. Call for availability.
Our friendly staff is here to help you get the exact product you need!
or Contact us for additional information.
Looking for other features? We have an assortment of water trailer vendors with an extensive offering of styles, sizes, and components at exceptional pricing. All capacities listed are for use with water storage. We ship from warehouses across the U.S. and our team will work with you to provide the equipment that fits your needs, delivered within the time frame that you need it. Contact Us for information on other liquid storage options.
UTV Sprayers with Boom Features
Poly Tank; 45 or 65 Gallon Capacity
1 Year Warranty
Molded in Drain Tank
Boom Sprayers
UTV Sprayers with Boom Benefits
Measuring Cup Attached for Accuracy
Made in the USA
Heavy Duty Materials
Numerous Boom Options to Choose From
Side by Side Sprayer Details
UTV Sprayers with Boom are made with numerous features that made it an excellent choice for spraying and watering. Equipped with spray booms, UTV sprayers can be placed in the back of UTVs or ATVs to assist you in watering landscape, crops, and other areas. UTV Sprayers with Boom have heavy duty roto molded tanks that have a molded in drain for easy cleanout. Tanks are also equipped with a multi-led to easily measure liquid product.
Our booms come equipped with multiple nozzle spray tips that are evenly spaced out on each side of the boom. The nozzles are pointed downward to spray directly on the crop or field. Because our boom sprayers spray directly on the ground, this provides you with more consistent coverage, allowing you to better observe what has been sprayed and what has not been sprayed. The quick-release spray boom is convenient to use and easy to assemble and disassemble. Our UTV Sprayers with boom come with a 1-year warranty. We have a selection of boom nozzle options you can choose from.
2-Nozzle Spray Boom: 80" Spray Coverage
5-Nozzle Folding Boom: 100" Spray Coverage
7-Nozzle Folding Boom: 140" Spray Coverage
3-Nozzle Boomless: 30' Spray Coverage
We also offer boomless spraying options that have their own benefits and features. For more information, see UTV Boomless Sprayer.
UTV Sprayers with Boom Specs
Product Number
FSUTV45-12V § 5302903
Product Number
FSUTV65-12V § 5302904
Features
Heavy Duty Roto Molded 65 and 45 Gallon Polyethylene Tank
Low Profile For Improved Stability / Low Center Of Gravity
Molded Handles For Easy Installation In UTVs
Pump
Conveniently Positioned Pump / Manifold Near UTV Cab To Easily Set Sprayer P.S.I.
12 Volt ShurFlo Pump, 4.0 G.P.M.: 45 P.S.I. Max
Other
Hose Wrap Holder With 25 Feet Of 3/8" Hose
New Multi-Lid Included
*Can Be Used With UTV Tailgate Closed Or Open
Optional
FSUTV-HR-50 5302919 - Hand crank hose reel - 3/8" x 50 feet of hose
UTV Sprayer Tank Downloads
UTV Sprayer Tank with Boom Applications
UTV Sprayers with Boom can be used in numerous applications. From weed spraying, pest control, lawn and garden watering, controlled spraying, targeted grass spraying and more, you'll find numerous benefits no matter your application. UTV Sprayers are easy to place and mount on almost any vehicle, from UTVs, ATVs, and pickup trucks. The innovative tanks design provides improved stability with a better center of gravity than other tanks and has molded tank handles for easy installation.
For freeze protection for your water trailer or skid, our Water Trailer Heater Blankets are exactly what you need . When cold weather affects the viscosity of fuel, fluids, and other materials you can lose production time, adding additional costs. Power blankets keep your tanks and smaller corrugated/steel tanks at constant temperature, preventing fluids from freezing in extreme conditions. We customize thermal blankets to meet your specific needs, no matter the tank size or shape. Call us today to find out more!
UTV Sprayer Tank FAQs
We offer both UTV Sprayers with Boom and Boomless UTV Sprayers. Our UTV Sprayers with Boom come in different nozzle options, from 2-nozzle to 7-nozzle booms for maximum coverage. Our boomless options include the 3-nozzle and 4-nozzle options.
TThe differences between UTV Sprayers with Boom and Boomless UTV Sprayers lie in the placement of nozzles and the direction the water sprays when in use. UTV Sprayers with Boom feature nozzles that spray down directly on the grass or crop that is being watered. UTV Boomless Sprayers however spray laterally in order to achieve a large spray coverage pattern. Whether using Boom or Boomless Spraying, you'll need to determine what your application will benefit most from.
Boomless Sprayers Offer:
Easy Maneuverability
Easy Spray Monitoring
Less Maintenance
While Spraying with Boom offers:
Better Wind Resistance
Better Spray Coverage
Minimal Excessive Spray Overlap
For more information on Boom versus Boomless spraying, Contact Us or Call Us at 863-261-8388.