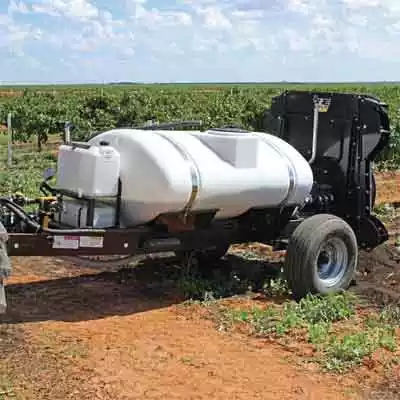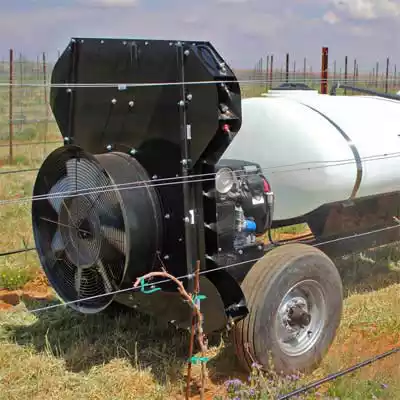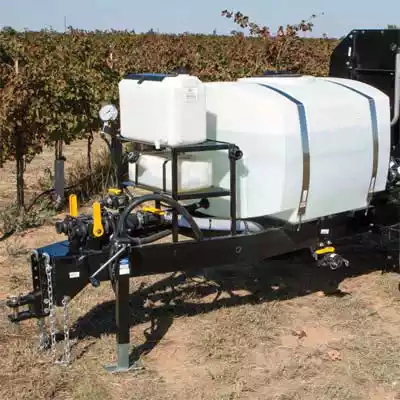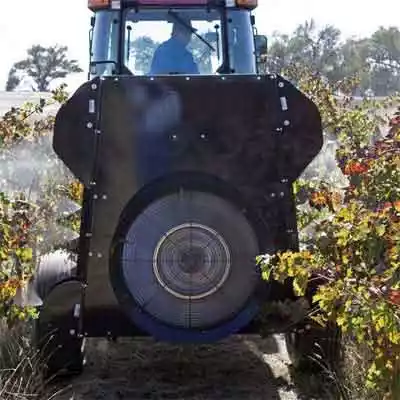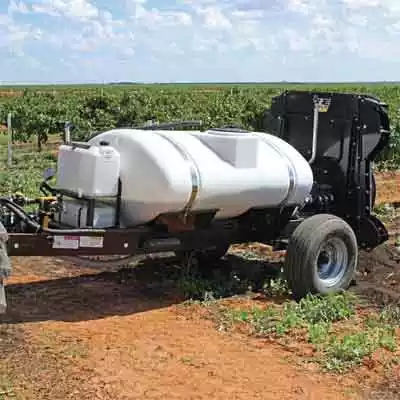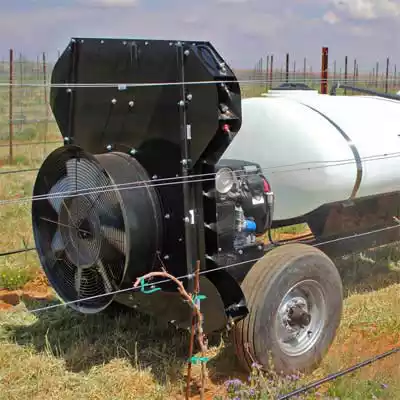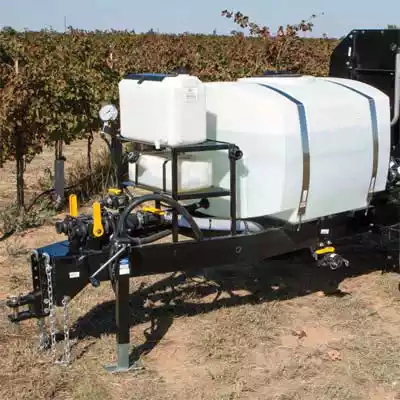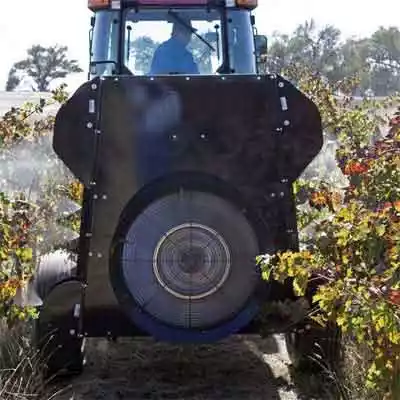 Vineyard Sprayer
Towable Agriculture Sprayer for Vineyards
The vineyard sprayer provides full-canopy coverage and effectively distributes insecticide or fungicide in rows between 8 and 11 feet wide. This heavy-duty vineyard herbicide tank sprayer is delivered ready to operate. The agriculture sprayer is available in 200 or 300 gallon capacities for small to large vineyards or agricultural operations.
Vineyard Sprayer Trailer Features
200 or 300 gallon tank options
PTO/Hydraulic Ace pump & Raven automatic controller
Vaneaxial fan & 22 HP Honda engine
Vineyard Sprayer Trailer Benefits
Full canopy coverage in rows 8-11 feet wide
Air diverters direct airflow
Automatic controller meter the spray applied
Vineyard Sprayer Details
With the vineyard sprayer, you can count on full canopy coverage for fungicide or insecticide application. Equipped with either a PTO or hydraulic Ace pump and a Raven SCS450 automatic controller, the agriculture sprayer delivers metered and accurate amounts of spray solution at variable speeds.
The Vaneaxial fan is powered by a 22 HP Honda engine and an Ace centrifugal pump. The vineyard herbicide sprayer's fan offers variable speeds for customized operation and the adjustable air diverters direct the air flow while the custom designed volute equalizes air flow to both sides of the sprayer. The top two nozzles and the bottom nozzle on each side are adjustable to target spraying of the agriculture to the heights needed for efficient application. Fill the tank through either the fillwell or the bottom fill valve. The bypass is equipped with a rotary nozzle inside the top of the tank for rinsing the tank when changing chemical solutions.
The vineyard sprayer irrigation trailer fits well and operates best in rows that are between 8 and 11 feet apart and can be operated at a variety of ground speeds. It is delivered fully operational and ready for agricultural, farm, and off-road use (not for use on DOT roadways). The vineyard sprayer utilizes 14 Conejet nozzles, but due to the wide variety of application needs, the tank sprayer tips are available separately. This allows you to choose the right tips for your vineyard or agricultural application.
Vineyard Sprayer Trailer Specifications
| | |
| --- | --- |
| Sprayer Tank | 200 Or 300 Gallons |
| Fuel Tank | 5 Gallons |
| Fresh Water Tank | 9 Gallons |
| Pump | ACE PTOC-150F-600-6SPQX (540 RPM) |
| Fan | 29" Vaneaxial Rated At 20,000 CFM, Speed Variable 1,000-2,200 RPM |
| Engine | 22 Hp Honda Gx690 V-Twin, Electric Start |
| Clutch | Noram Centrifugal (3 V-Belts) |
| Spray Tips | Teejet Visiflo Conejet (7 Per Side), Available Separately |
| Control | Raven SCS440 Automatic |
| Trailer | 168"L X 72"W X 70"H, 6" Channel Iron, Single Torsion Axles With Accu-Lube Hubs. For Farm And Off-Road Use Only |
Vineyard Spray Equipment Applications
Designed for use on both small and large vineyards, the vineyard sprayer helps control spraying costs and provide protection for the vineyard by providing the operator control over the spray direction, depth, and speed. Use the vineyard herbicide sprayer to accurately apply fungicides and insecticides in rows between 8 and 11 feet wide for full canopy coverage. It can also be used as an agriculture sprayer for similar farming applications.
For freeze protection for your water trailer or skid, our Water Trailer Heater Blankets are exactly what you need . When cold weather affects the viscosity of fuel, fluids, and other materials you can lose production time, adding additional costs. Power blankets keep your tanks and smaller corrugated/steel tanks at constant temperature, preventing fluids from freezing in extreme conditions. We customize thermal blankets to meet your specific needs, no matter the tank size or shape. Call us today to find out more!
Vineyard Sprayer Frequently Asked Questions
Vineyard Sprayer Questions and Answers
This vineyard sprayer is not designed for use on public roadways. Instead, it specifically designed to be an affordable and versatile sprayer trailer for agricultural spraying and use in off-road environments.
This sprayer can fit easily in rows that are 8 feet wide, but also effectively provides canopy coverage in rows that are up to 11 feet wide.