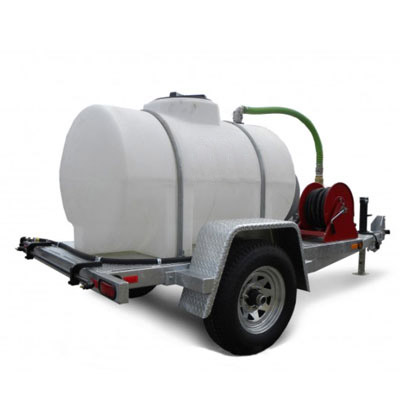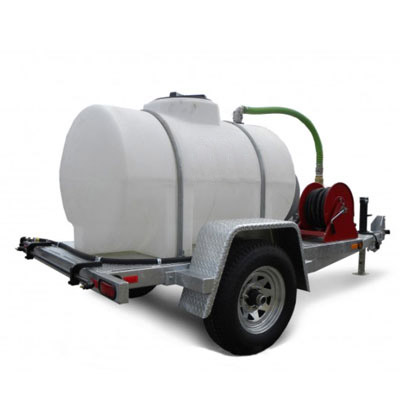 Small Water Trailer
300 Gallon Water Trailer
The small water trailer is a well thought out design for applications requiring a compact size. It offers many of the benefits of larger water trailers, but with a 300 gallon water tank instead. We pack all the standard features you have come to expect into a small tank trailer package. This 300 Gallon Water Trailer is lightweight, easy to use, and able to fit into tight spots that some of the bigger water trailers cannot fit into.
Looking for other features? We have an assortment of water trailer vendors with an extensive offering of styles, sizes, and components at exceptional pricing. All capacities listed are for use with water storage. We ship from warehouses across the U.S. and our team will work with you to provide the equipment that fits your needs, delivered within the time frame that you need it. Contact Us for information on other liquid storage options.
300 Gallon Water Trailer Features
2" x 2" Centrifugal Pump 246 GPM
3.5 HP Honda Pump
Manual Crank Hose Reel
Two Different Hoses Included
300 Gallon Water Trailer Benefits
Fully Self Contained
Turn- Key Operation Upon Delivery
DOT Rated Trailer
Multi-function
Small Water Trailer Details
The small water trailer size does not mean it lacks features. The 300 gallon water trailer has a polyethylene translucent white tank that is FDA approved and NSF rated for potable water. The 300 gallon pull type sprayer tank trailer is DOT rated for highway use with a single axle, galvanized frame, and durable decking. The 300 gallon water trailer also comes standard with a 2" x 2" centrifugal pump capable of 246 GPM and a 3.5 HP Honda Motor.
The small water trailer comes with two different types of hoses and a rear spray bar. It also has a complete suction and discharge valve control system complete with non-collapsible hoses and brass valves. It also has many accessories such as dual hose reels or a black tank to reduce algae growth. The 300 gallon water trailer can be built to adapt to any need your project might have. It is the perfect combination of usable features built into a small easily maneuverable pull-type sprayer water trailer.
300 Gallon Water Trailer Specifications
| | |
| --- | --- |
| Tank | 300 Gallon Water Tank (325 Gal), Horizontal White Poly Leg |
| Trailer | DOT Highway Trailer |
| Transmission | 4.8HP Honda GX 160 Gas Engine |
| Axles | Single 5200 lb Axle |
Small Water Trailer Applications
The small water trailer is highly adaptable and perfect for the tight fit that some sites require. These may include street festivals, a barn at the ranch, or smaller construction sites for dust suppression. This fully DOT rated, pull-type, small tank trailer can be easily moved to fit the limited space that some job sites require. Common uses for this small water trailer:


The DOT 300 gallon water tank trailer can be easily moved between sites. Once on site it can adapt to your project's needs with its irrigation or dust control spray bar and built-in features and accessories.
Frequently Asked Questions
Small Water Trailer Question and Answer
Yes, this poly tank is acceptable for potable water. It is also FDA Certified and NSF rated. For convenience, we offer water storage tanks in translucent white or in an optional black color. Black water tanks have been found to inhibit algae growth in the tanks.
Yes, the small water trailer can be transported on roads. Depending on your needs, it comes in 2 configurations: non-DOT and DOT-rated. This 300 gallon pull-type sprayer trailer comes standard with all required DOT features including lights and electric brakes.