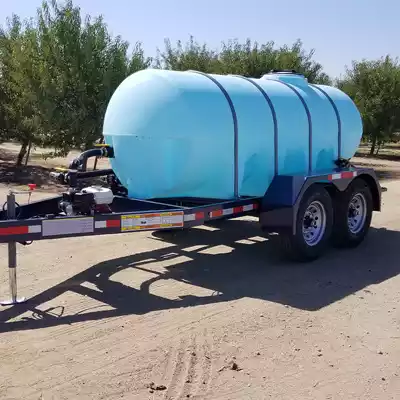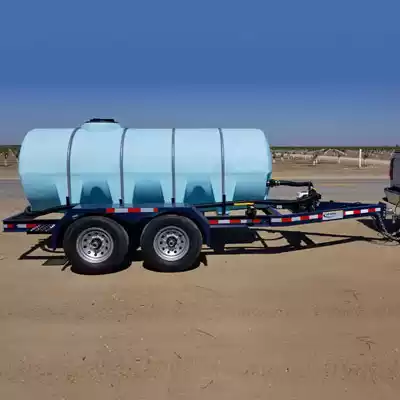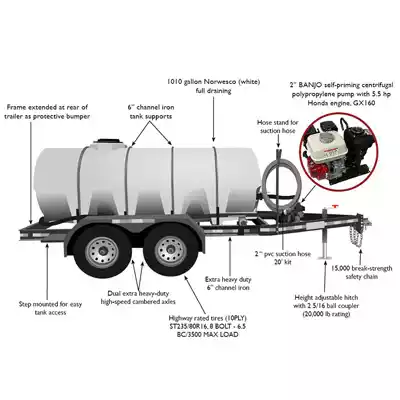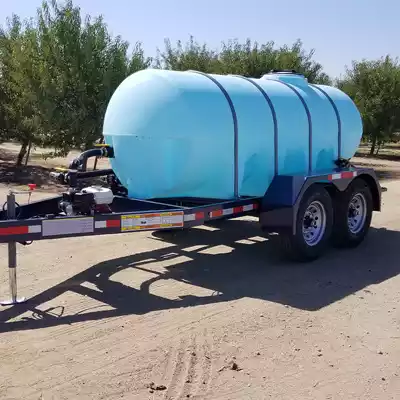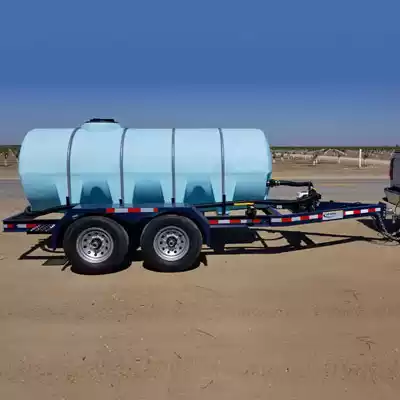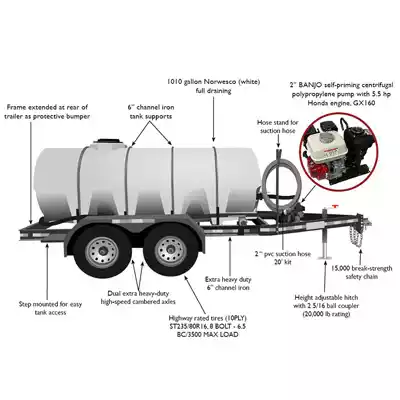 AquaDOT
1000 Water Tank Trailer
Water Hauling Trailer
Our Aqua-DOT 1010 Water Tank Trailer is the perfect choice when water is needed on large projects. The DOT Compliant water-hauling trailer is the right solution when projects require more water to get the job done. Designed to drain fully, our 1010-gallon water tank trailer gives you access to ALL the liquid in the tank. No water is left behind, enabling you to use every last drop!
Not what you're looking for? We have an extensive list of styles, sizes, and components at exceptional pricing. We ship from warehouses across the U.S. Our team will work to help you match the equipment that fits your needs, delivered within the time frame that you need it. See Water Trailers for a full listing of available water trailer sizes and styles or Contact Us for information on other liquid storage options. Call us today! Give us a call at 863-261-8388 or below.
Looking for other features? We have an assortment of water trailer vendors with an extensive offering of styles, sizes, and components at exceptional pricing. All capacities listed are for use with water storage. We ship from warehouses across the U.S. and our team will work with you to provide the equipment that fits your needs, delivered within the time frame that you need it. Contact Us for information on other liquid storage options.
See the video below for a demonstration of the wide-angle spray bar, and the specifications table for additional package details. Nearly unlimited customization options are available, but may affect lead-time.
*Inventory levels change continually and vary by location and features required. Call for availability.
See the full listing of specifications on the flyer below, and learn about what makes Aqua-DOT water trailers different than the rest!
1010 Gallon Water Tank Trailer Features
GX160, 5.5 HP Honda Engine (6.5 HP Engine Upgrade Available)
Full Port Banjo Flange Fittings
Heavy-Duty, High-Speed Dual Axle Rated 16,000 Lb.
Height Adjustable Hitch With 2 5/16 Ball Coupler
Bulldog Top Wind Jack
2 Inch PVC Suction Hose
Adjustable Wide-Angle Spray Nozzle
Step Attached For Easy Tank Access
1010 Gallon Water Tank Trailer Benefits
DOT-Compliant
Greater Load Bearing Capability
Quick Fill System
Highway Rated Tires
Equipped For Accessories
5 Yr. Frame And 3 Yr. Non-Prorated Tank Warranty
Fire hose kit options available on request (not included)
Water Tank Trailer Details
Built for heavy-duty use on rough jobsite terrain and also for high-speed liquid transportation on public roadways, the extra heavy-duty 6-inch channel iron frame is reinforced along the outside edge for added strength. Equipped with tandem axles and heavy duty suspension, our Aqua-DOT water trailer is capable of handling twice the load bearing capacity compared to smaller tanks. The water tank trailer is affordable and ideal to use for washing construction site equipment, concrete washout, soil compaction, dust control, and so many other applications. Our trailer package comes with a 5-year frame warranty and 3-year non-prorated tank warranty. Non-prorated means your tank is 100% covered for the entire warranty period.
Our Aqua-DOT 1010-gallon water tank trailer is in stock and ready for shipping. Select the location that best fits your needs for freight and lead-time. We ship from AL, AZ, CA ,KY, KS, MN, ND, NE and WA. Give us a call and order yours today!
The Aqua-DOT 1010 water tank trailer has an extra heavy-duty frame made from 6-inch channel iron with DOT-compliant features that include fenders, brakes, reflectors and LED brake lights. The water-hauling trailer is designed to fully drain so all of the liquid in the tank is used. This feature makes the water trailer more versatile and cost-effective. Equipped with a 20-foot long suction hose, our water tank trailer includes a hose bib with heavy-duty turn ball valve for faster on/off responses. The adjustable, wide-angle stainless steel spray nozzle mounts on either side or on the back of the trailer, providing an array of width and angle possibilities for spraying.
Our 1010 water wagon features numerous functional components, making it the best on the market. Each water wagon is equipped with electric brakes that enable safe stopping when hauling a large tank of water. Other components include DOT-compliant lights and tandem axels. The slipper leaf spring suspension distributes the weight of liquid better, improving balance on uneven ground and increasing maneuverability around job sites.
See all of the DOT Nurse Trailer Features we offer. You might also be interested in our 1610 DOT trailer.
For freeze protection for your water trailer or skid, our Water Trailer Heater Blankets are exactly what you need . When cold weather affects the viscosity of fuel, fluids, and other materials you can lose production time, adding additional costs. Power blankets keep your tanks and smaller corrugated/steel tanks at constant temperature, preventing fluids from freezing in extreme conditions. We customize thermal blankets to meet your specific needs, no matter the tank size or shape. Call us today to find out more!
Aqua-DOT 1010 Gallon Water Wagon Specifications
Frame
221"(Length) x 77"(Height) x 87" (Width)
6" Channel Iron Tank Supports
Frame Extended at Rear of Trailer As Protective Bumper
Pump And Engine Mounting Space Inside Tongue for Greater Protection
Step Mounted to Trailer for Easy Tank Access
5 Year Warranty
Suspension
Dual extra heavy-duty high-speed cambered axles, slipper leaf-spring suspension, 16,000 lb rating, heavy-duty wheel bearings
DOT Package
Electric brakes, Fenders, Reflectors, LED Lighting
Tires
Highway rated tires (10PLY) ST235/80R16, 8 BOLT - 6.5 BC/3500 MAX LOAD
Jack
Heavy-Duty 15" Bulldog top wind jack (2,000 lb rating) with swivel post mount, folds up inside the frame for travel
Hitch
Standard: Height adjustable hitch with 2 5/16" ball coupler (20,000 lb rating), Optional: Std. Clevis, 2" Ball Coupler, 3" Lunette eye
Break-strength safety chain of 15,000 lbs
Extras
5.5 hp Honda engine, GX160, 6.5 hp engine upgrade and remote start options available
2" BANJO self-priming centrifugal polypropylene pump, max flow: 195 GMP/45 PSI
Hose Rack
Tank
1010 gallon Norwesco (white, rotationally molded), fully draining
3 year non-prorated tank warranty
Filling
2" BANJO full-port flange fittings
Quick fill system with fire-hose adapter
2" PVC suction hose, 20 feet long, with poly basket strainer for filling from open water sources
Spraying
Hose bibb with heavy-duty poly quarter turn ball valve or fast on/off response, with male thread at point of connection for use with common garden hose (not provided)
Adjustable wide-angle stainless steel dust control spray nozzle
Fire hose kit options available on request (not included)
Water Trailer Applications
The Aqua-DOT water tank trailer is built to handle a wide range of projects and applications. While commonly used for water hauling and spraying, our trailer is created to withstand use with heavier liquids as well. Some common uses include watering livestock, agriculture use, washing equipment, and arena spraying. With its durable construction, the tandem-axel water trailer is adept at hauling water from different locations on public and remote roads to construction or agricultural sites. Our trailer with water tank and pump is crafted to provide a specific balance of operational convenience, safety and durability. This 1010 water tank trailer is specifically designed for use on larger water hauling jobs with a wider range of conditions. Contact us for pricing and details.
Additional Options
Customize this trailer to meet your specific needs. Options include: Algae resistant black tank, extended frame, fire hoses/reels/nozzles, suction hose/strainer/stand, tank sight gauge, engine & pump choices, mixers, booms, nozzles, and more. We also offer an extended trailer for additional storage space. Ask your One Clarion representative for a list of available accessories!
1000 Water Tank Trailer Frequently Asked Questions
Water Hauling Trailer Questions and Answers
Our 1010 gallon water tank trailer comes equipped with a 5.5 horsepower Honda engine and a BANJO self-priming centrifugal pump. If you are interested in a more powerful motor, we have a 6.5 horsepower Honda engine option as well. (Please keep in mind this will affect pricing.) .Other features included Banjo manifold flange connections with clamps and flange for easier repairs. Call our product experts at 863-261-8388 to discuss this option and pricing.
With the Banjo manifold flange connections, the hours unhooking entire systems of valves and fittings are over! The flange fitting as opposed to threaded allows for much simpler and faster replacement of broken parts, saving you time on normal repairs. You can directly isolate and replace parts or re-plumb sections without taking apart the entire system. Flange connections utilize clamps and gaskets instead of threads, ensuring a leak-proof system. With properly installed flange fittings, you won't have to worry about connections leaks or wait for sealant to cure. When a fitting is damaged, our flange connection systems gets you back up and running in no time at all. Call us at 863-261-8388 to find out more information.