Portable Irrigation System for Sports Field Irrigation and Dust Suppression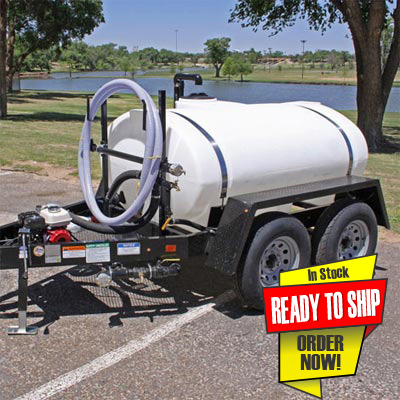 You need the Sports Field Irrigation Trailer as an easy-to-use portable irrigation system for your sports fields. Ditch the traditional in-ground irrigation systems that are costly and tough to maintain. When there's a problem, there's usually a lot of digging, searching for damaged lines, and resodding needed. With the spray bar, the sports field water trailer can serve dual-use by also being used for dust suppression after infield groomer use. It can provide dust control solutions for many types of sports fields, such as baseball diamonds, arenas, or dirt racing tracks. The sports field irrigation trailer is easily pulled behind a small truck or tractor, and provides spray bar coverage of up to 25'.
Portable Irrigation System for Sports Field Irrigation and Dust Suppression
Helps you track your exact water usage, no more guessing
No sprinkler heads that could lead to athlete injury
No in-ground lines to purge or freeze during winter
Easy maintenance, no digging or searching for broken lines or resodding
Use one trailer for multiple fields: football, soccer, baseball, or sports complexes
Quick and easy dust suppression spray on exposed dirt in sports fields, dirt roadways, racing tracks and arenas
Provides portable dust control solutions that can be easily transported
Questions about sports field irrigation? Call our team at 1-863-261-8388 or Contact Us.
Sports Field Irrigation Trailer Specifications
The Sports Field Irrigation Trailer is built to last. Each trailer's frame is constructed from high strength channel iron and a durable poly tank. Honda engines and pumps are available for quick tank filling and discharge. The trailer's durable high strength poly tanks are available in 300, 500, 1,000, or 1,600 gallon capacities.
Sports Field Irrigation Trailer Features
Diamond-plated fenders
Dust control spray equipment
Sprays a wide swath up to 25' for dust suppression
Translucent polyethylene tank—know your water level at a glance
Manifold for suction and discharge
25' fire hose
Easy to Fill and Discharge
The portable irrigation system's water trailer can be filled manually by removing the top lid or by drawing water through the 4 HP Honda pump. Additionally, a quick-fill valve can be used for high pressure sources like fire hydrants in a pinch.
DOT-Compliant Upgrades
Sports Field Irrigation Trailers are available in off-road (non-DOT) or in DOT-compliant models. DOT compliant models feature LED safety lighting, braking systems, and other safety features for use on public roadways.
For more information on our concrete dust control sprayer trailer, contact us or call us at 1-863-261-8388.