Portable Water Wagon for Water Delivery
The Water Transport Trailer is built for water delivery services and businesses that need a solution for economically hauling water to clients. The DOT-compliant trailer comes turn-key and ready to use. Avoid the expense of taking a big truck to small projects like ponds, hot tub fills, or other portable water delivery services.  The quick-fill port saves time in filling the tank, and the honda engine and 2" pump make for efficient discharge using the fire hose provided.  Simply use the standard tow hitch to hook-up the trailer and you're ready to get to work. For other sizes and options, see Water Tank Trailrs
Need more information on a water transport trailer? Call our team at 1-863-261-8388 or Contact Us.
Water Trailer for Water Delivery
Easy to use and reliable, our water transport trailers are available in either potable or non-potable water models. You have several options for filling the tank: fill from the top portal, draw water through the pump, or fill from alternate water supplies using suction intake filter kit. With water delivery services, saving time discharging the tank is just as important is when filling it. To discharge the water tank quickly, use Honda engine and 2" pump with the 25' fire hose that's provided.
Our water trailers are USA made using high strength channel iron frames and low density polyethylene tanks. Tanks are available in potable or non potable water options. The standard white tank provides a helpful visual indicator when filling the tank, but the black poly tank option prevents algae growth. Ask your rep about poly water tank options to fit your business needs.
The most popular sizes for our DOT-compliant Water Transport Trailers are:
Water Transpot Trailer Sizes:
Easy-to-Use Water Hauling Trailer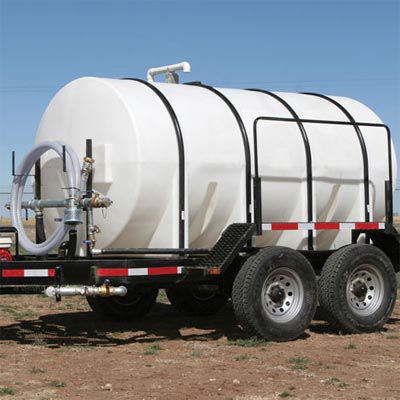 The portable water wagon is a turn-key solution and ready to use when it arrives. Whether it's being used for delivering potable water for cisterns, filling hot tubs, or as a portable irrigation system, the water transport trailer is a reliable, heavy duty solution.
Water Transport Trailer Features
DOT required features included for safe road-use
Ball and pintle ring connection with heavy duty safety chain for towing
Portable irrigation system
Easily tow behind a truck
Tandem axels with 16" tires and easy lube hubs
Galvanized spray bar
Honda engine and pump
DOT-Compliant Water Transport Trailers
Each water hauling trailer is compliant with Department of Transportation requirements for safe use on public roadways. LED safety lights and braking systems are just as a few of the safety features included.
Water Hauling Trailer Applications
Filling pools or hot tubs, cisterns
Well water delivery
Portable irrigation system
Fill ponds
Landscaping
Construction
Water transport trailer specifications are unique to each trailer by tank size. Please see: Water Hauling Trailer Selection.


Questions about a portable water wagon? We can help! Contact us or call us at 1-863-261-8388.