Fillng Road Barriers, Spraying Dust, and Washing Equipment
Our Construction Water Trailer is a reliable (and affordable) multi-purpose solution for construction projects. Dust control is the most common water trailer application in construction, as it is much more economical than using large watering trucks or rental equipment. It is equipped with both a spray hose for targeted spraying and a spray bar for blanket coverage of larger areas. Other uses on construction projects include equipment washing stations, filling road barriers, and misting concrete.
The Construction Water Tank Trailer is a lightweight, DOT-compliant trailer with a tank, pump, and spray bar mounted on the deck. The water tank trailer is an affordable solution for small- to medium-sized projects where heavy trucks aren't practical or necessary. Delivered turn-key, this DOT trailer is ready to use when it arrives.
Less chance of overwatering and causing erosion
Translucent tank shows exactly how much water you're using
Durable Honda engine and pump
Quick fill from any water source
Questions about water tank trailer for construction? Call our team and ask about what water trailer you'll need at 1-863-261-8388 or Contact Us.
Construction Water Trailer for Inexpensive Dust Suppression
Designed specifically for jobs where you need a reliable dust suppression system, Construction Water Trailers provide solid performance you can trust. This DOT road-ready water trailer is equipped with a fire hose for targeted spraying and a spray bar for blanket dust control coverage. The Honda engine and 2" pump can be used to power either filling or spraying. The trailer is available in a variety of sizes including with a 500 gallon, 800 gallon, 1,000 gallon, or 1,600 gallon tank (see our full line of construction water trailers for more information). This water tank trailer is a great addition to any dust mitigation plan. Some features include:
Sprays bar broadcasts a 25' wide spray swath
Standard hitch for towing behind work trucks or other equipment
Drop foot jack for stand-alone operation
Optional hose bibb for low pressure applications
DOT Road-Ready Construction Water Trailer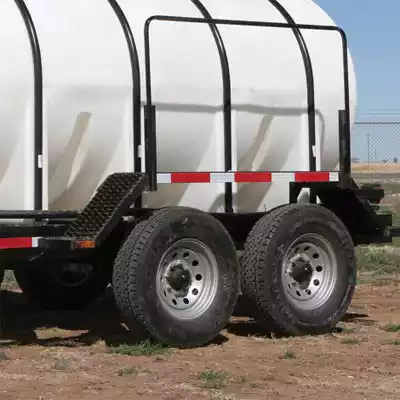 Each trailer meets DOT requirements and is delivered turn-key and ready to use.
LED safety lights in the front and rear
Electric brakes
Water-resistant connectors
Multi-Purpose Construction Water Trailer
The Water Tank Trailer is versatile and can be used for many different purposes on the construction project. For projects with concrete work, use the water tank trailer to mist the concrete, slowing the curing process for best results. The hose bib and firehose make this trailer practical for washing equipment before it leaves the jobsite. For road construction projects, use the water trailer to fill road barriers. The durable off-road trailer with suspension, electric brakes, and an adjustable flow valve to make filling easier.
The hose bibb attachment allows for lower pressure applications. The water tank trailer can be fitted with a suction kit for filling from retaining ponds. The quick-fill kit is for filling the tank from high pressure sources such as hydrants. The construction water trailer a versatile solution for your construction project. Learn more about these 500 to 1600 gallon water trailers.
Other Construction BMP Products
Other Construction BMP's to keep your job site in compliance:
If you need a water tank trailer for construction, contact us or call us at 1-863-261-8388.