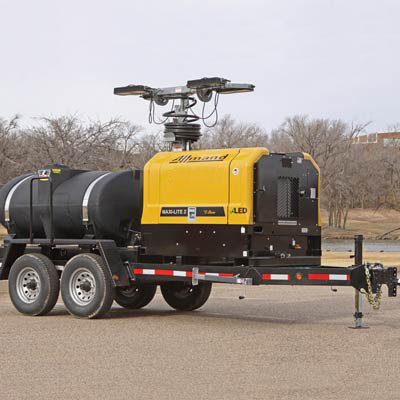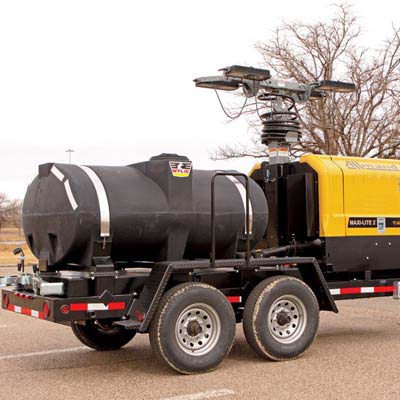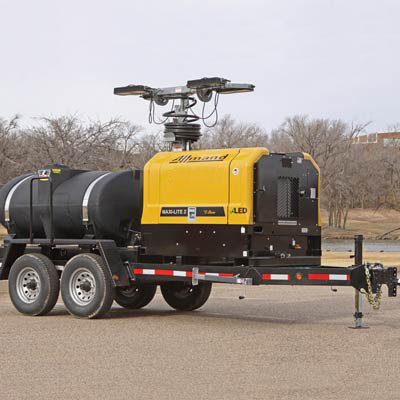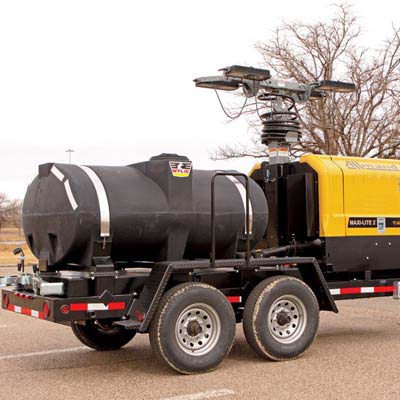 3-in-1 Combo Trailer
Lighting, Water & Generator Combo Trailer
The Combo Trailer features a 500 gallon water tank, diesel generator, gas tank, and lighting tower to conveniently supply your work area's needs with one portable trailer. The DOT compliant Combo Trailer is road ready and delivered fully assembled.
Combo trailer Features
500 gallon water tank
Algae-resistant and potable tank
15 kW Allmand diesel generator
25' LED light tower
Combo Trailer Benefits
Generator powers water pressure tank, light tower, external power needs
DOT Compliant for public roads and highways
Water tank and components potable water rated
Combo Trailer Details
This generator water combo trailer provides portable power, water and light for just about any jobsite that is accessible by road. No need for several industrial trailers on the job site when one will do. The 500 gallon water tank transports potable water to the project location, while the industrial trailer's mounted diesel generator supplies the electricity. The water supply system utilizes a pressure tank to reduce pump cycling and provide a steady flow of water. For cooler climates, the (optional) Freeze Protection Package protects the water components, allowing longer seasonal use in the field.
The 15 kW Allmand generator is supplied with fuel from the attached 240 gallon diesel tank. When full, this generator trailer with fuel tank can run up to 300 hours. The attached 25' LED light tower illuminates the job site, extending the workday for evening or early morning crews.
The light tower trailer is also equipped with a step, handholds, and slip-resistant treads for easy access to the light tower mast and outlets. The industrial trailer uses a drop leg jack and outrigger jacks for stabilization. Additionally, there is a freeze protection module available that protects the combo trailer's water components in cold weather, further extending the season that the unit can be deployed in the field.
Combo Trailer (Water Trailer, Light Tower, and Portable Generator) Specifications
Weight
5,240 lbs (Empty)
11,500 lbs (Full)
GVWR (Gross Vehicle Weight Rating)
14,000 lbs
Tandem Slipper Spring Axles
7,000 lb axles
8,000 lbs springs
Dimensions
228" L x 83" W
Trailer Frame
7" Channel Iron with Recessed Lights
Water Tank
500 Gal (black)
Diesel Fuel Tank
240 Gal
Water System
Flojet 5 GPM
110 V
45 psi
Operating Time
320 hrs
Lighting and Tower
4-320 watt LED fixtures
320", six-section, hydraulically actuated vertical tower
Engine and Generator
Caterpillar C1.5 Turbo T4F liquid-cooled diesel 22.3 hp
15 kW single-phase 120/240V generator
Combo Trailer Applications
Built for industrial efficiency, the Combo Trailer eliminates the need to have a generator trailer, a light tower trailer, and a water trailer by combining them all into one. Built to DOT specifications, the generator water combo trailer is legal for road use and can safely be towed on highways and public roadways. This reliable industrial generator trailer is a preferred choice in providing power, light, and water to construction projects, oilfield work sites, camps, mobile offices, and even RVs.
Don't need the pressure washing capabilities? See our Express 500 gallon water trailer.
Don't need the pressure washing capabilities? See our Express 500 gallon water trailer.
Frequently Asked Questions
Generator Water Combo Trailer Frequently Asked Questions and Answers
Yes, this generator trailer is DOT compliant for highway use. It has surge brakes, lights, breakaway chain, and other safety features included in the package. Please see the trailer specifications above for a complete list.
The black tank on this generator water combo trailer makes it algae resistant. The color of the tank helps create a climate inside the tank itself that is less favorable for algae to grow.
Yes, this water tank uses only components that are rated as safe for use with potable water. Please note, the water tank is only for use in water storage and transportation. It is not rated for use with other liquids. The diesel tank for the generator is located separately, beneath the water tank.