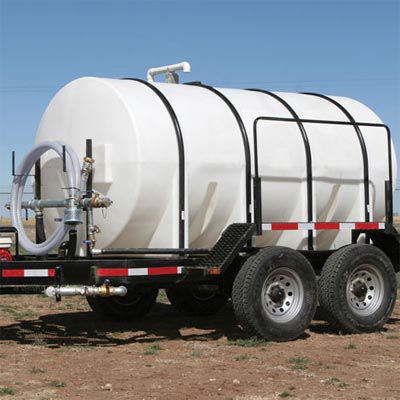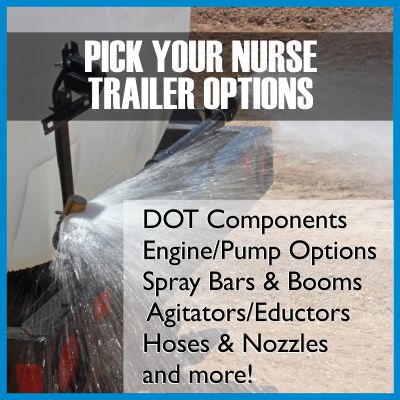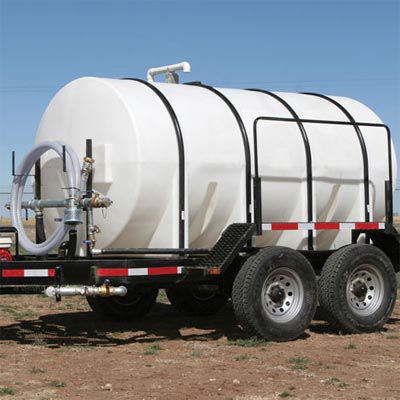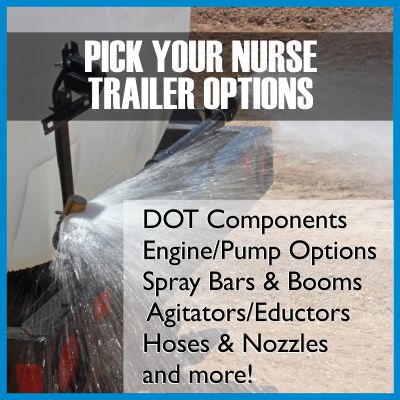 Water Hauling Trailer
Large 1600 Gallon Water Trailer
The 1600 gallon water trailer is a large capacity DOT-compliant mobile trailer designed for jobs that require rugged and reliable water storage in remote locations. With a wide range of accessories and additional features to choose from, water trailers can be customized for different industries and applications.
Looking for other features? We have an assortment of water trailer vendors with an extensive offering of styles, sizes, and components at exceptional pricing. All capacities listed are for use with water storage. We ship from warehouses across the U.S. and our team will work with you to provide the equipment that fits your needs, delivered within the time frame that you need it. Contact Us for information on other liquid storage options.
1600 Gallon Water Trailer Features
Steel diamond fenders
5.5 HP Honda engine
Easy-to-wind drop foot jack
Solid decking
1600 Gallon Water Trailer Benefits
Large capacity for many projects
DOT compliant for road use
Wide selection of trailer accessories
Easy to fill and spray
Water Hauling Trailer Details
The water hauling trailer from can go the distance for most projects. Built with a heavy duty 6" channel iron frame and a two-coat layer of rust-resistant enamel, the 1600 gallon water trailer satisfies DOT specifications, including electric brakes, switches, and LED brake lights. The large water trailer is supported by 3 axles with slipper spring suspension.
The standard tank color for the 1600 gallon water trailer is translucent white, which allows the water levels in the tank to be visible. The durable poly tank has optional coatings for both potable and non-potable water storage. The water hauling trailer polyethylene tank can be filled in a couple different ways: a quick-fill kit for use with high pressure sources or the suction fill kit, which includes a strainer and fire hydrant adapter.
1600 Gallon Water Trailer Specifications
Trailer
DOT-Compliant
Tank
1600 Gallon Polyethylene
Dimensions
(L x W x H)
160" x 101" x 89" (not including tongue)
Frame
6" Channel Iron
Axles
8,000 lbs. Electric Brake
Tires
16" on 8 Lugs
Hitch
2-5/16" Adjustable Ball; 3" Pintle Ring
Brakes
Electric Brakes with Breakaway System
Water Hauling Trailer Applications
The water hauling trailer can be used across many industries and applications. The large 1600 gallon water trailer is fit for construction job sites, arena maintenance, fire suppression, and other emergency response needs. Different accessories and additional items will customize a trailer for a specific job site. For example, a galvanized spray bar with spray nozzles that have a 25' swath could be used for dust suppression on roads and construction sites or in arenas.
Frequently Asked Questions
Water Hauling Trailer Questions and Answers
A water trailer, also known as a water hauling trailer or water wagon, is a utility trailer with poly water storage tanks mounted onto the trailer decking. This design allows large amounts of liquid to be safely transported. Water hauling trailers come in a variety of sizes and can include pumps, engines, spray bars, and hoses depending on the application. They are mobile, durable, and at One Clarion, customizable. Additional accessories allow water trailers to perform a wide array of tasks with ease.
Our water hauling trailer features a 1600 gallon polyethylene leg tank. To clean a poly tank, we recommend draining the contents of the tank until nothing is left. Then, clean with a pressure washer. Some may opt to refill ¼ of the water tank with water, move it around, and drain again. Dry out completely before refilling. For those who plan on using chemicals during the cleaning process, please remember that this will make the tank non-potable. Water tanks should also be cleaned 3 times a year with a bleach solution. This helps resist algae growth in the tank.